Health,Beauty and Fashion—are my 3 obsessions being as a medical esthetician  for almost 17 years.
The educational but fun party by  25A magazine November issue   featured Sonja Morgan  from RHONY and Dr.Christoper Calapai took place in "Beautique ", a posh,upscale and celeb-fav restaurant  right across from The Plaza.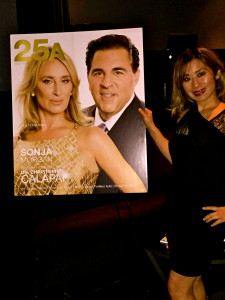 Sonja Morgan-Everyone must have already  known about my dearest client of 15 years from "The Realhousewives of NYC. (Bravo TV).
Sonja can't be busy enough. She is not only a reality TV star but also passionate about charitable work,loves to be involved in animal welfare,children's welfare,the art,  LGBT right ,getting  a weekly facial by me and  creating her fashion line.
Her first taste of the fashion line was in the 80's when she studied Fashion Marketing at FIT.Sonja's "Classic yet sexy style" including a mesh-panel swimsuit ($150) and a gold-hued full-length gown ($1200) were sold out shortly after her first launch in the beginning of this year.
According to Sonja,her line is designed for versatility and can be worn year-around.
http://www.sonjamorgannewyork.com
 Dr.Calapai.
According to 25A,  he has become  a leader  in the use of stem cell therapy in the United States. Not only keeping himself busy participating in clinical trials to treat  a host of disorder,he makes homemade wine,enjoy entertaining  and he is THE  eligible bachelor who has the A-list celebrity clients.During his interview with 25A,he mentions that  the stem cell helps to treat joint pain, works as an anti-aging, treats obesity and beneficial for Alzheimer's patient.
Stem cell therapy is a technique in which certain cells taken from your body fat are extracted and injected into tissue or the bloodstream,and these cells create healing for growth and repair of your body.The cells used in the therapy don't have any "Identity" or "Blueprint".
Stem cells have become so popular that they are even being used in spa treatment and beauty products
This incredibly unique "STEM CELL"can transform into any kind of cell type within the body.They also have the power to regenerate and multiply.
As we age,integrity of cell walls diminishes and our skin become wrinkles,losing elasticity and plumpness.A topical application of stem cells  will regenerate subcutaneous tissue and replace damaged cells with new,more youthful looking cells.
There are promising therapeutic approaches with stem cells and growth factors for both skin regeneration and hair growth regeneration.In many cases  it is possible to dispense with hair transplants and surgical procedures such as facelift and eyelid surgery ,in which the skin is pulled back and the excess tissue is excised.Instead,it is important to treat the root cause and restore lost volume in a tissue-
Stem cell facial will appear on my menu hopefully by the end of 2015.
I am in a middle of creating the treatment.
I will keep you posted!